Homestay Vinh Long (weekendtrip)
It's been more than a week since my last blogpost and a lot has happened since. In my first
weekend we went to Vinh Long to stay in a homestay. In a homestay you stay at a home of a local family. When we arrived in Vinh Long we where welcomed by a very kind Vietnamese man. He took us down a narrow path to his home in a nice wooded area. It was a real quiet and soothing place, ideal to get some welcomed rest.
The home had a ditch with a lot of fish in it, so the owner of the house handed us some
rods to go fishing. We joked a bit about catching our own dinner and the owner agreed that he would prepare the fish, if we would catch one. After 30 minutes of fishing Britt (one of the other volunteers) suddenly started screaming. She caught a fish! The owner of the house came running towards us with a big smile, yelling: "Big dinner! Big dinner!".
After chilling and relaxing in the hammocks, we went for a short bike ride and discovered a bit of the area. When we came back, we where invited to cook dinner with the family. We made our own springrolls and baked Banh Xeo (looks like a pancake with vegetables). When we where done cooking, the family served us with a table full of delicious food. And… also our own catched fish! Although we didn't eat much of it, as it tasted like sand and river.
The next day we went on a boat trip with the owners brother in law. We sailed across the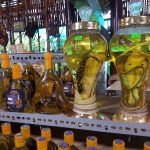 Mekong river to a factory where they make coconut candy, popcorn and rice wine. They showed us the factory processes and we tasted some things. I also tasted a rice wine that was bottled with a snake in it. The venom of the snake apparently has a special effect on the wine. They told us that men would get arroused by drinking a lot of it. I luckily didn't experience that, but it did have a… let's say.. very special taste.
Volunteering projects
When we arrived back home, we got our schedules for the week ahead. I got Charity Class added to my schedule. In Charity Class we teach English to about 10 children of which the parents can't afford normal school classes. The kids are eager to learn, this makes the lessons very enjoyable and rewarding. In this class there are two students that are a bit ahead of the rest. So two other volunteers teach the class and I have to teach English to these two students (Linh en Lan). After class we went for a drink across the street together with the kids. Sin Tho's (fruit smoothies) are very nice here!
The rest of my weekschedule stayed the same as last week. Last week the lessons at Thien An where a bit hard for me because the children are pretty restless and easily distracted. This week it went a lot better. I think it's partly because I have a better understanding how to keep their attention, but also a large part is due to a woman from Thien An. She kept an eye on the class and sometimes showed a threatening pose with a stick in her hand. It seems that hitting children during class is a conventional thing. Even I was a bit on my toes as I didn't want to have one of these kids being hit on my account. Luckily it didn't come that far and the lesson was pretty successful.
Watching TV after class with the kids from Thien An
In one of the next lessons at Thien An, we tried to use my laptop to show a YouTube video with English words. This worked pretty nicely. For as long as we did the video part, we had the kids full attention and participation!
The City Orphanage really is one of my favourite projects. At the kids section we started learning English to some of the kids by playing memory and asking to say the English words for each memory pair they collect. They start to get the hang on things like 'fish', 'boat' and 'flower'. It's really nice to see!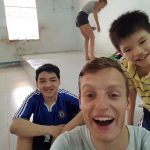 At the men section there are some men that really enjoy taking pictures. So I took some selfies with them and used the Snapchat filters, which was a lot of fun.
Phu Quoc Island (weekendtrip)
Last weekend I went to Phu Quoc island together with one of the other volunteers, Daphne. Phu Quoc is an island near the west coast of Vietnam. Nature on the island is still very intact, as tourism on this island is in it's beginning phase. There are a lot of resorts being built at the moment, so in a couple of years Phu Quoc will probably be a well known tourist paradise.
To get to Phu Quoc Daphne and I took the bus at 3:30 in the night from Can Tho to Rach Gia. From Rach Gia we took the Superdong boat to Phu Quoc, so on Saturday at about 13:00 we arrived in our hostel. When we arrived we directly headed over to the scooter rental. On our scooter we went off to visit some of the sweet spots on Phu Quoc.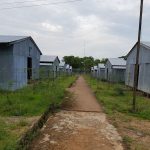 We visited a waterfall, two nice beaches (the beaches where the ones with the white sand and blue water which everyone knows of) and Coconut Prison. Coconut Prison was a prison used during the Vietnam war. In this prison people where tortured in horrible and inhumane ways. They had reconstructed scenes of the torturing, it gave us chills.. It was a really impressive place to visit.
For Sunday we booked a boattrip with snorkling. Phu Quoc has some nice coral reefs and underwater life. We where lucky with a perfect sunny day and I loved the warm temperature of the water (28 degrees!).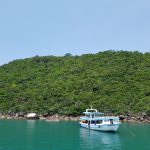 At Monday we would leave the island with the boat at 13:00. So we booked a taxi to pick us up at 12:00. We still had the scooter in the morning, so we stood up early and decided to explore the island a bit more. Without any specific destination we drove towards the North of the island.
After a 45 minutes drive across wonderful roads, we decided to look at Google maps where we ended up. Apparently we had gone all the way to the top of Phu Quoc. From there we only had two roads to choose to get back to our hostel. The way we came or another long road down the coastline. On the way down the coastline there was a crocodile farm. So we decided to go for adventure and take the unknown road.
We visited the crocodile farm, which was nice but not really special. After that, we continued our trip down the coastline. After 10 minutes of uncomfortable driving on an unpaved road with holes and hills, we came to the realization that the road ahead wouldn't get better for a long time. Which gave us a bit of time stress as we had only 1,5 hour left to get to the hostel. We didn't have any choice but going on down the road, as the way back would take too long. So we drove on..
Then things became even a bit worse, we landed on a piece of road that was transformed in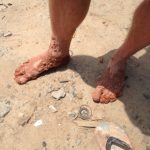 one big mudpool. While trying to get through, we slipped and almost fell. The scooter and our feet soiled with mud.. Now stress was really beginng to get to us. So while hoping for the best for the road to come, we continued driving. Daphne had to hop off and on another 3 times to get through muddy parts, but eventually after another 45 minutes of unpaved road, we managed to get back on a paved road again. Just having enough time to clean the scooter and ourselves and get to the hostel at 11:45. So.. that was a little bit pressing, but we made it.
Upcoming..
This week I got the same projects as last week. What did change was that three volunteers left the house, two new volunteers joined and also three new volunteers will join today. Next weekend we will probably go to Chau Doc (near the border with Cambodja). It seems that they a beautiful cave pagode there. I can't wait!
Thanks for all the supportive and nice messages and see you all soon!