I'm writing this blog during my flight back home. Which takes a bit longer than expected as I missed my transfer flight in Abu Dhabi due to delay of my first flight. So I had to stay overnight in a hotel near the airport of Abu Dhabi (altogether +/- 7 hours of delay). Anyway, the last weeks of my trip where at least as amazing as the ones before. Packed with good experiences, but unfortunately also some less pleasant ones.
Floating market festival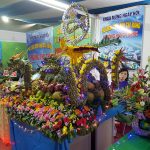 To start off with a good one.. Phuong, our mentor, took Laura and me to the floating market festival. The people of Can Tho celebrated the long history of the floating market with a fruit carving exposition and a boat race. The fruit carving exposition took place in a large hall where they had setup cubicles, a bit like the fairs we know in the Netherlands. Beside the fruit carving cubicles, there where also some stands with original floating market foods and drinks and there where some music and dance performances. Unfortunately the start of the boatrace was delayed so much, that we weren't able to attend it.
I think that, during the festival, we where asked for at least five times to pose for a picture. Just random Vietnamese people came up to us and asked to get a picture with us or sometimes just took a picture in a sneaky though obvious way. We apparently where very special for the people at the festival. I even was interviewed by young guy and his mother. The interview would appear, with picture, in one of the local newspapers. Too bad we didn't manage to find the article.
Chau Doc (weekendtrip)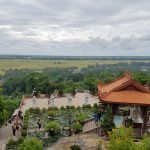 In the weekend after the festival we went on a trip to Chau Doc with the group of volunteers. Chau Doc is a region near the Cambodian border. It houses some great highlights like Sams Mountain, a mountain that lies just on the border of Cambodia and Vietnam. On and around Sams mountain there are a lot of nice pagodes. One pagode even had parts of it built inside the mountain (called a cave pagode). The serenity and peace around these mountain pagodes was impressive to experience.
The next day we went to Tra Su Forest. An almost untouched forest with canals passing through it. In a small boat we fared accross the canals. Silence, serenity and untouched nature prevailed.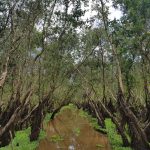 Unfortunately my own experience in this part of the trip was getting worse and worse, as I was struck by food poisoning. I assume it was the egg at breakfast that caused it, as I was the only one that had an egg and was experiencing illnes. I was feeling really bad (throwing up and a hurting stomache) but we had to get back to Can Tho in the afternoon. So after a horrendous bustrip of more than 3 hours we arrived back in the volunteer house and I finally was able to get to bed.
Charity Class 2
Luckily I only needed one full day to recover and was able to attend the projects pretty quickly again. I only missed one project, so that was okay. For the coming week I had a new project on my schedule, Charity Class 2. In this project we teach English to a class of eight nuns. Some of them are pretty good at English. This makes the project a bit more challenging in terms of level of English. The nuns where very friendly and had a good dose of humor, which made the lesson a lot of fun. Too bad I only had to do this project once.
Floating market tour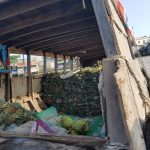 On my last day in Can Tho we planned to visit the Cai Rang floating market by boat. We had to get up early in the morning. We left the house at 4:30AM to head to the dock and get on a boat to the floating market. While the sun was setting we fared across the Mekong river. When we arrived at the market our 'tour guide' tried to explain us (with a lot of hand gestures and Vietnamese words) that you could see what each boat was selling by what kind of ware they had hanging on their flagpole. After crossing through the market, we stopped at the boat of my dreams… A boat packed with pineapple!
After that we got off the Mekong river and found our way through the canals of Can Tho. Where we stopped at a noodle factory and got the chance to see the whole process of making rice noodles.
Ho Chi Minh City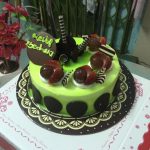 After the trip to floating market, it was time for me to pack my bags and get going to Ho Chi Minh city. While I was waiting for the shuttle bus to pick me up, the other volunteers surprised my with a goodbye cake. So sweet of them!
At about 4:00PM I arrived at my hotel in Ho Chi Minh, so I took a warm shower (finally again!) and rested for the rest of the day. The next day I got up early and visited the War Remnants Museum. This museum exposes pictures and stories about the Vietnam war and also the horrors that took place. Especially the part of the museum where the effects of Agent Orange (the chemical bombs the US used) where exposed was hard to watch..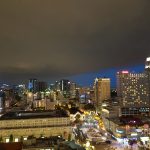 After visiting the museum I went over to Ben Thanh Market. This is a covered market where they sell a lot of different stuff: food, clothes, all sorts of souvenirs. I had read on the internet that the people in the market where pretty aggressive sellers and would try to charge tourists extremely high prices. Well nothing was lied about that! But I was able to score some good bargains after all (sometimes 1/3 or even 1/4 of the starting price).
My trip is coming to an end, it has been a wonderful time in Vietnam. I'm determined to come back to visit the North of Vietnam some day. What a great country with great people!