The first three weeks in Bali have literally flown by. Life is good in Bali!
Good weather (despite the fact that it's rain season), delicious food, amazing nature and very friendly people. I'm so happy and thankful that I still have 5 weeks to go here.
Last 2 weeks were great, I'll try to share some of our experiences and add some photos with it.
Canggu got us hooked
After we stayed in Kuta the first week, we went to surfer village Canggu. We were immediately caught by the relaxed vibe. Everyone is minding their own business, but at the same time very friendly and helpful if you need something. I wouldn't mind living in Canggu for some time longer.
On one of the weekend days, Sven and I took a surfing lesson at Perencak beach. I've had a surfing lesson back home, but in general the sea in Bali is a lot rougher than in the Netherlands. So this was quite a different experience. After an hour Sven and I both had some successful waves rides (but still pretty much near the shore and just standing up and going straight towards the beach). We were about to go for a second time, but arriving at the beach found a sea that was at least twice as rough compare to when we had our surfing lesson. So we wisely backed out and watched the pros do their work that day. We're planning to go surfing again when we come back in Canggu later this week
For our working days we found a nice cafe/coworking place, District Canggu. A basic working space with good internet and a nice view on some rice terraces. It provided us with all we needed to do our jobs.
Sneak peaked Ubud
With Canggu as base, we decided to take the scooter to check out Ubud. Ubud is a town located among the rice paddies in the inlands of Bali. Where Monkey Forest is one of the highlights you can't miss. We didn't visit Monkey Forest yet, but passed by it. Enough to catch a glimpse of some monkeys crossing the streets.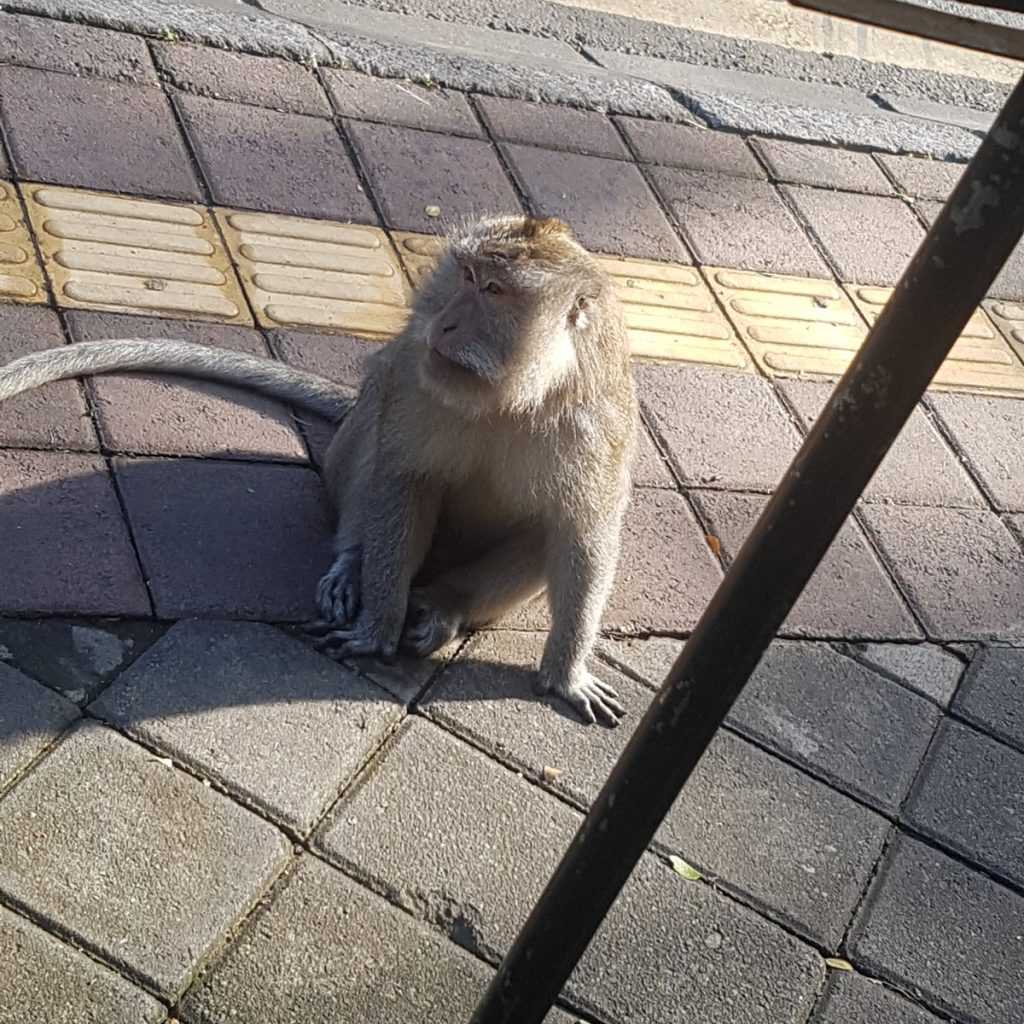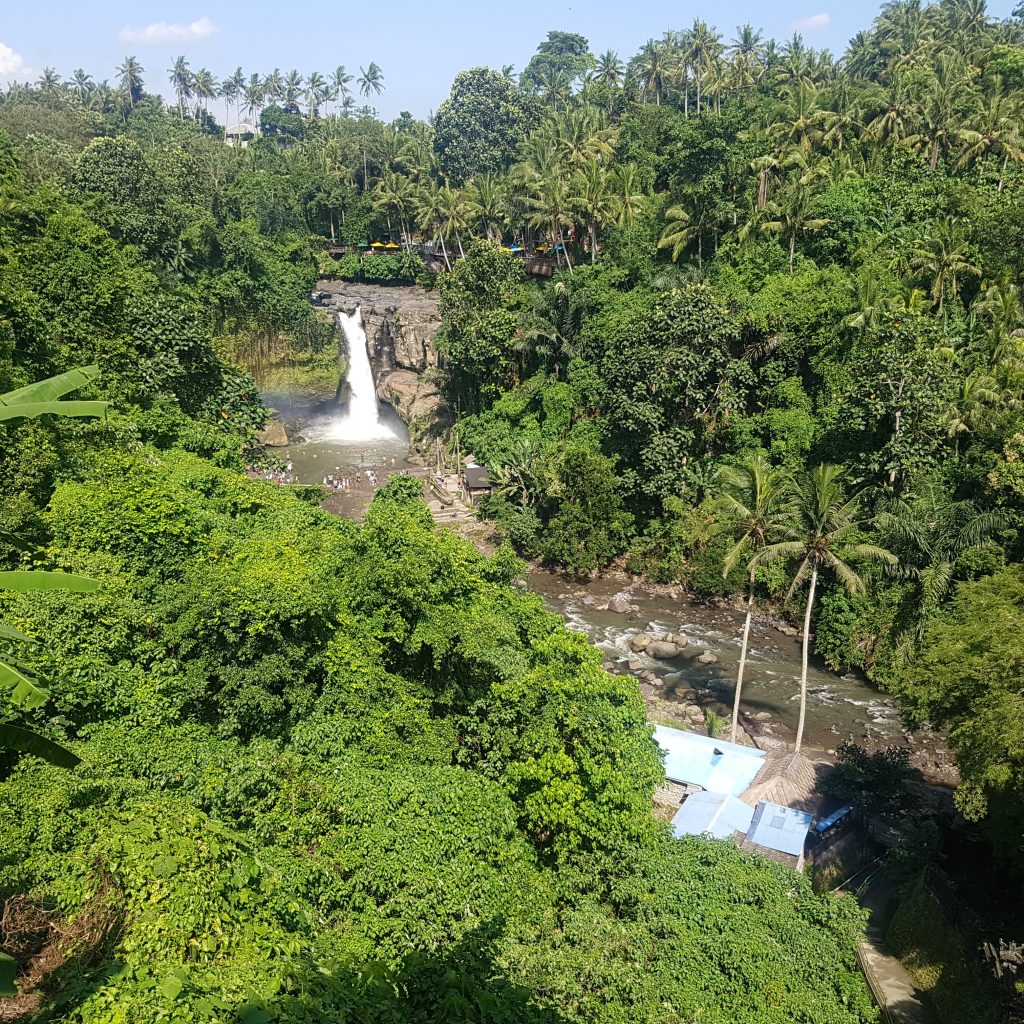 We're staying in Ubud until Thursday this week and will explore the area in the coming days. Our first impression of Ubud is positive. Nice restaurants all over, streets are quite busy but not as crowded as Kuta.
Weekend trip Nusa Penida
Nusa Penida is a beautiful island near Bali. From several beaches in Bali fast boats take people from and to Nusa Penida. As we came from Ubud, we drove an hour on the scooter to Kusamba beach and took the fast boat (+/-30 mins) to Nusa Penida.
We were told the island would be an amazing experience, although roads would be horrible in some parts, we were advised to rent a scooter. So we did. Yes, some parts of the island had some hellish roads. So if you don't have too much experience driving a scooter, think twice before attempting to reach the highlights by scooter. But anyway, most of the roads were perfect and crossing the island in and on itself was an amazing experience!
Beside all great viewpoints Nusa Penida has to offer, theres also the unique opportunity to go snorkling with Manta Rays. We got up early and left at 7:00AM for the trip. And we had success! It was a magical experience.. The Manta's of at least 1,5m by 2m seemed to take pleasure in heading straight onto you and just turning away at the last moment. Unfortunately we don't have any footage ourselves, but to give an idea I've included someone else's YouTube video.
One of the biggest undertakings during our trip to Nusa Penida was climbing the 'stairs' to Kelingking Beach. Looked from above Kelingking has a t-rex looking shape. It is possible to descent to the beach by a path made out of wooden sticks and carved out steps. Some parts are really steep and some climbing is required. It's quite a challenge to do this, so I think 95% of the tourists don't go down. There were also no boats at all, which made Kelingking Beach a very secluded and quiet place.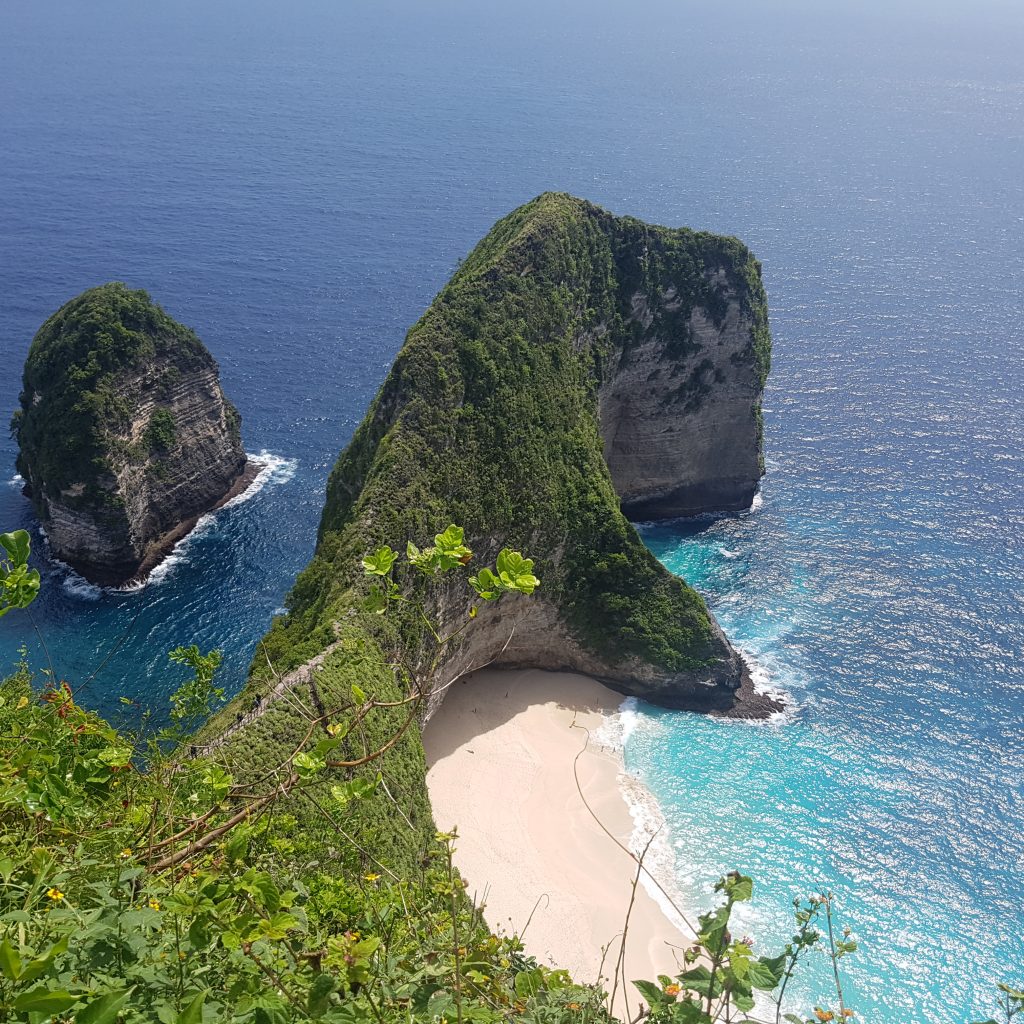 I've included two videos, one of the climb on Kelingking and one of the sea down at the beach. By times the waves certainly got to 3-4 meters of height. Sven and I were both swept away by it multiple times, which was pretty funny.
Sven is returning home on Saturday and Fleur will join me next week on Wednesday. I'm really looking forward to the weeks to come. A lot of things to do here!
Thanks for reading, see you all soon!