Last week my brother Sven and I started our long awaited adventure to Bali Indonesia. Sven will be  working remotely from Bali for one month and I'll be staying for two months. On Saturday morning we departed from Amsterdam Schiphol airport. We had an overlay in Jakarta, so after 13 hours and 45 minutes, we set our first foot on Indonesian soil. Two and a half hours later our next fight departed to the end destination Bali. After another two hour flight we touched ground in Bali (around 12:35 in the afternoon). At this time the outside temperature was at least 32C and the sun was giving us a warm blazing hot welcome.
Getting to the hotel
In advance of our trip we were warned about the taxi drivers on the airport being pretty pushy and trying to overcharge arriving tourists. So we decided to attempt using Grab instead (which is basically an Indonesian Uber). Grab drivers are not regular taxi drivers but private drivers verified by Grab. A big advantage of Grab is that you see the price of the taxi trip in advance, so no discussion about the price whatsoever and the driver receives the exact location of our hotel on his phone. A perfect example of how technology can make things a lot easier. But in our case, it turned out as a small disaster..
Before our trip I got a heads up that using Grab in Bali is not appreciated by regular taxi drivers. That's actually an understatement, as I found out later that Grab drivers even got beaten up by taxi drivers before..  Anyway, we followed the advice to use Grab and tried to find the departures hall (away from the regular taxi drivers) to meet a Grab driver over there.
We dragged our luggage along in search for the departures area, in the burning sun, passing all of the regular taxi drivers asking us "taxi? taxi?".. And most of them were not giving up after a gentle "no thanks, we already have a driver".
After 5 minutes of walking, we ended up at the international arrivals and departures hall. Which was also packed with regular taxi drivers. Anyhow we decided to book a Grab there, and within a couple of seconds we had a driver sending us instructions where to meet him. The instructions were pretty complicated.. We had to go a garage, get into an elevator, get to the 5th floor and meet him in parking spot E54 or something. Obviously this was quite a puzzle not knowing anything about the airport. Besides that, he explicitly stated not to have anyone follow us. Which in and on itself didn't sound very comforting to me.. We started our search for the elevator and failed miserably. We couldn't find any elevator. Meanwhile a regular taxi probably picked up that we were searching for a Grab and decided to follow us and kept telling us that we didn't know how things work. We tried to get rid of him by thanking him friendly, but he was persistent to follow us. The longer we tried to ignore him, the more annoying he got. After another 5 minutes of searching for the elevator and still getting followed by the same guy, Sven and I got pretty stressed out and overheat so we decided to abort the search and asked the guy following us to bring us to our hotel. Of course he charged more than the normal price, 150.000RP (10 euro) for a short trip to Kuta (and of course the 10 euro isn't the problem, but being overcharged just doesn't feel good). The taxi driver also didn't feel the need to be very friendly anymore and kept on babbling about how bad Grab is and how happy he was to have taken the drive from this guy. So our first introduction to Bali was not what we had hoped for, but I think for the larger part our own fault.
Our second acquaintance with Bali was at our hotel Bali Bustle, where we got a very warm welcome. We could directly access our room even though we arrived before check-in time, which was very nice as we where both broken up by the long trip. It took us 24,5 hours to get from our hometown The Hague to the hotel room in Kuta Bali. Time for some sleep in a nice bed!
First days of working
We arrived on Sunday afternoon and on Monday we both had our first remote working day. Even though we both had a jetlag, working went very well. Large determining factor was the great accommodation that Bali Bustle offers. Good working desks, fast internet, good airconditioning and a very calm, clean and open working space. The first days all went very smooth and Sven and I both enjoyed working remotely a lot.
Our days mostly started between 11.00AM and 12.30AM (4.00AM-5.30AM Dutch time), then around 4:00PM we would have a quick break to have a late lunch, then continue working until 8.00PM and then go out for diner in one of the nearby restaurants and afterwards get back to make our last hours of the day. It has worked pretty well for us like this and as far as I heard for my colleagues as well, so that's great!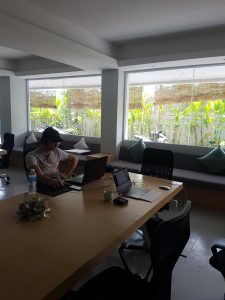 Staying in district of Kuta, moving to Canggu
Kuta is the area we've been staying our fist week. It is well known as the most touristic area of Bali and in advance I've mostly been discouraged to stay there, as there are a lot better places in Bali. Despite the advices, we decided to book our first week at Bali Bustle in Kuta as it looked very nice in the pictures, was close to the airport and very affordable. And yes Bali Bustle was a very good choice. But Kuta… hmm, not so much. The part of Kuta where we stayed was not even that touristic. It was just very crowded and on nearly every street corner there would be locals yelling "taxi?" "massage?" while we passed by. You could call it courtesy to help out, but after  having it happening 10 times on our way to a restaurant it gets somewhat annoying.
After a couple of days we rented a scooter, so we were able to get out of Kuta and discover more of Bali. On our first day off, we visited Canggu (a district known as a surfer district, just above Kuta). This was a completely different experience. Way more relaxed opposed to the busy streets of Kuta. We were both very eager to move to Canggu, so luckily we only booked a single week in Kuta.
We've been in Canggu for two days now, and yes.. this is where we found the Bali feeling we were searching for. Chill, laidback, no pushy shop owners, nice small restaurants all around, great beaches. Basically all we could've wished for. The streets in Canggu are pretty busy though, but whereas Kuta felt like overcrowded, Canggu is better described as lively. All in all we really look forward to stay at least a week in Canggu.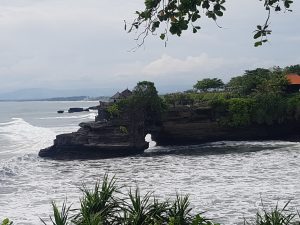 Weather
Regarding the weather, it's quite unstable. Sometimes the sun is shining for a whole day (we enjoyed a full day at the beach last Sunday), but for instance yesterday it has been raining (very hard) for 10 hours straight. Nevertheless the temperature stays between 27-32C all day. Hearing about the freezing temperatures in the Netherlands makes us extra thankful to be here.
We now booked for one week in Canggu and I can imagine we will stay for another week in this area if we keep liking it like we do now. We'll see how it goes!
This is it for now. Warm greetings from Bali and see you all soon!