The journey to Zell am Ziller
From my home in The Hague to my destination in Austria (Zell am Ziller) it's approximately a 1000km drive. I didn't rush it and took an in between stop in Oberhaching (just below München) at around 869km. Everything went pretty smooth and I would arrive on Sunday at around 12:00AM.
It was perfectly in sync with the estimation I had emailed to my contactperson two days earlier. He had instructed me to call him on his phone when I would arrive. So I could be shown  around the accommodation.
I arrived at the accommodation only fifteen minutes earlier than the time I had sent before. No sign of life around the house. So I called my contactperson expecting him to come outside and welcome me. But no one answered the phone.. So I tried another 1, 2, 3 times. Hmmmm, still no one answering..
I had also gotten an exact address, so I decided to ring the bell of the house. Also no one opened up the door.. I attempted it another couple of times and tried to call the phonenumber another 4 or 5 times. Still without success. I wasn't really freaking out, but I was actually standing there in Austria with nothing more than a phonenumber and address which both didn't help me out. So I was running out of ideas about what to do..
Then suddenly I saw movement in the house. So I ringed the bell once more. A surprised looking woman opened up the door. In poor German I asked if my contactperson was there. But she couldn't understand me and told me she was not speaking German herself. She asked me to wait. Some seconds later, she came back supporting an elderly lady walking slowly to the door. The lady told me that my contactperson was in Switzerland for the whole day. After some discussion they went back inside to call someone. When they came back the lady told me that the sister of my contactperson was coming over to help me out. I would only have to wait for an hour for her to arrive. I thanked the ladies and got back to my car.
It might sound like it all went pretty smooth from the moment the door was opened, but with my very limited German it was kind of a struggle. I was actually a sort of proud it worked out well in the end!
Anyway, I got back to my car and fortunately my home towns football club ADO Den Haag was playing a match at that moment. So I set the driver's seat back and watched the game on my phone. After an hour the sister arrived, it turned out that my contactperson had forgotten about my arrival. She quickly showed me my room and wished me a pleasant stay.
Yes! I finally really arrived in Zell!
First week of remote work
I arrived on Sunday, and on Monday I would have my first remote working day. So Sunday  evening I started arranging my working desk. Which in hindsight I was pretty well prepared for. I had packed an HMDI cable with which I could connect my laptop to the television in the room  (having two screens is very useful for my work). Other things that also turned to be very helpful where my laptop stand, wireless keyboard and mouse AND (not directly related to work, but still very nice to have!) a Chromecast. Being able to cast Dutch television, Netflix etc to the television was really nice.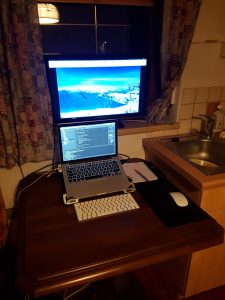 Fully set and prepared I fulfilled my first remote working days from Austria. Actually I liked the first week of working like this even more than I expected. It's easier to focus, I like the fact that I don't have to drive to the office every morning and downsides like not being able to talk face-to-face with colleagues is actually not much of a problem for me. The largest part of my team is Polish and is stationed in Poland, they're working remotely almost whole year. So everything is discussed through chat or video calls anyway. Until now everything went pretty good and I think that the fact that most of my team is remote, was an important factor for that. If everyone or at least a large part of the team is working remotely, this automatically makes the chat room or video chatroom the central point of communication. Whereas when only a single team member is remote, it's easier to miss out on discussions in the office where the rest of the team is together. So opposed to what I feared a little, in this first week I didn't feel less connected or less part of the team working remote.
Spare time on location
Outside of working hours, I planned to do lot of snowboarding. And hopefully get to know some ski instructors on location to hang out with. Unfortunately the first week there was no snow at all. So the Zell am Zillers ski area was (unexpectedly) closed for the whole first week. So that meant no snowboarding in Zell and also no instructors to hang out with. Bummer!
I could have seen that one coming though, as it's just the start of the wintersport season and theres always the risk of 'no snow'.
During my first week it was very quiet in the village of Zell, because theres not much else to do besides skiing. Nearly all restaurants and bars were closed. It really felt a bit like a ghost village the first days I was here.
Fortunately there where some near higher up ski areas that were open. So I could go there for some snowboarding fun. In retrospective, I think it would've been better to arrive at least one week later (or even two weeks, because still the wintersport season still hasn't kicked off yet).
On the other hand, the chill and peaceful environment also had a positive side. I could fully focus on my work and on some of my personal side projects I like to work on.
In summary: my first week of being remote was a nice experience, though next time I would prepare my options for some social contact a bit better OR go together with someone that also works remotely.
Anyway, this weekend two of my friends will join me here in Zell so that promises to be a lot fun. Looking forward to it!
Tschüs!